After 'Suspicious' Activity Parolee Charged With Several Felonies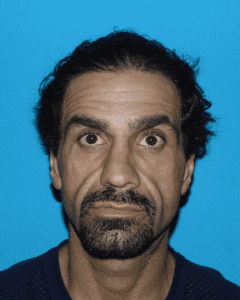 Ninous Tamo, TCSO Booking Photo

View Photos
Sonora, CA — After reports of suspicious activity in Sonora near the Pine Tree Restaurant off Hess Avenue, Tuolumne County Sheriff's officials say that a parolee at large was arrested and jailed without bail.
According to Sgt. Andrea Benson, a deputy responding to the scene on Friday just after 5 p.m. spotted a person with a gas can jumping the fence behind the restaurant, then head towards a green and tan Ford Explorer. After the deputy asked the man to identify himself, the subject provided an inaccurate name and date of birth but was subsequently identified as Ninous Tamo, 39, of Modesto. During a search of the vehicle associated with Tamo, a parolee, the deputy turned up a syringe as well as a heavy 18-inch piece of plastic, coated with copper wire and taped on one end. Sgt. Benson states that the item was classified as a "billy club." She adds that a .38 caliber round of ammunition, a glass cutter and false tabs on the vehicle were also connected to Tamo.
Subsequently arrested, Tamo faces charges of false impersonation of another; parole hold; also being a felon in possession of ammunition, burglary tools, drug paraphernalia, and false registration. There was also an INS hold placed on Tamo by the U.S. Border Patrol. He remains in the Tuolumne County Jail.