Playing For Bragging Rights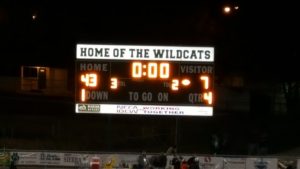 Final Scoreboard

View Photos
Sonora, CA — Plenty of intercounty rivalries on the gridiron in week five of the high school football season.
The Wildcats continued their winning ways beating its cross town rivals Summerville 43-7. Sonora's first score came on a one handed 21 yard touchdown reception by Evan Bearden in the first quarter. Bradley Canepa punched in a score in the first quarter from 1 yard out towards the end of the first period.
In the second quarter the defense got in on the scoring action when Jack Camara rolled up Summerville's Quarterback Alex Provost and caused the ball to pop out.  Sonora's Killian Rosco scooped up the ball and ran it in for six. Then Josh Harris made the two-point conversion bringing the score to 22-0. Summerville's Gabe Walker had a gorgeous 45 yard touchdown reception to put the Bears on the board. Late in the second quarter, Josh Harris kept the ball and rushed from 4 yards out to put the Cats up 29-7 at halftime.
Sonora would score once in the 3rd quarter when Kane Rodgers juked his way in from 15 yards out and Mason Dambacher would add another touchdown in the 4th quarter with a 2 yard score. Although it did not show on the scoreboard, the Bears did not stop rallying to the ball and kept throwing different offensive looks down the field causing the Wildcats to adjust on the defensive side of the ball all night long.
Next week the Wildcats travel to Linden to take on the Lions. Summerville plays Argonaut on its home turf.
Another intercounty rivalry played out in Calaveras County, with Bret Harte taking on Calaveras in a close game. Calaveras came out on top 27-26. Next week, the Bull Frogs head to Amador and Calaveras has a bye week.
*Brandon Steele and Mark Ferreira contributed to this report