YCCD Chancellor: Down To Three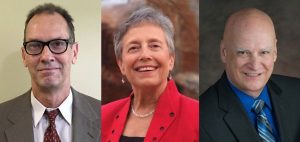 YCCD Finalists: Dr. Donald Wallace, Dr. Sandra Mayo, Dr. William A. Dunn

View Photos
Modesto, CA – Two men and one woman are vying for the position of Yosemite Community College District (YCCD) Chancellor with a couple of public forums to vet the finalists.
The district's search committee has narrowed the field of candidates to Dr. William A. Dunn, Dr. Sandra L. Mayo, and Dr. Donald G. Wallace. One of them will replace Chancellor Joan Smith who has held the post since 2010 when she was tapped as Interim Chancellor. Before that Dr. Smith was the Columbia College President from 2006-2010. Smith is set to retire January of 2017, as earlier reported here.
There will be two open forums held to get to know the candidates. District officials explain that each finalist will be given an opportunity to discuss their experience for the position, their education and leadership philosophy, and respond to pre-written questions from the audience.
The forums are listed below:
Wednesday, October 12:
Modesto Junior College – East Campus, Performing Arts Center
11:10 a.m. Dr. Donald Wallace
12:10 p.m. Dr. Sandra Mayo
1:10 p.m. Dr. William A. Dunn
Thursday, October 13:
Location: Columbia College, Dogwood Forum
10:00 a.m. Dr. Donald Wallace
11:00 a.m. Dr. Sandra Mayo
12:00 p.m. Dr. William A. Dunn
Click here for the YCCD provided backgrounds on the three finalists.