Experts Anticipate Full-Flavored 2016 Vintage From The Mother Lode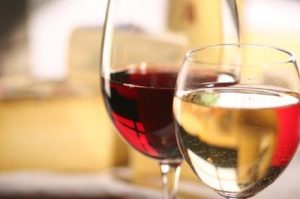 Wines in glasses

View Photos
Sonora, CA — Admittedly enjoying the buzz of experiencing the first near-normal weather in four years, local industry insiders still seriously tout the potential of the 2016 vintage.
Jamestown winemaker Cody Lapertche, who works for Gianelli Vineyards and Hurst Ranch, apprenticed under local legend Chuck Hovey of Hovey Wines for four years before being called to fill those tall boots last year when Hovey suffered a massive stroke from which he is still recovering.
This year, with brother Christian Lapertche in tow, they are now in the stage of pressing out this latest vintage. Recounting, Cody comments, "We [were] just used to working in…pretty arid drought conditions and we are usually picking by August 9. This year, the first day we crushed was the 15th of August. Things held on the vine a lot longer but ripened at the same time." Continuing, Lapertche remarks, "This year we were able get the sugar and acid levels where we want them and they come through the door that way, which makes the winemaking a heck of a lot easier…you know, grapes are really tough and resilient and you can always make a good wine out of them — but this definitely makes it easier — and you are always going to see that difference in quality. So I am really excited about the 2016 harvest."
2016 Harvest Had More Quality 'Hang Time'
Over at Inner Sanctum Cellars, co-owner and VP Pete Luckhardt echoes, "As of this year, it is looking really good. Last year the harvest was very early and the drought definitely played havoc on the grapes. We had less yields but more intense fruit. This year is similar — but the rain helped with volume and the grapes hung a little longer on the vines — the quality of the grapes once again are great."
As for standouts among the varietals he and wife Karen purchase, Pete points to Tempranillo, which he fondly describes as "a Merlot with attitude." Inner Sanctum kicked off its crush at the end of August, picking Chardonnay, a known earlier ripener, perhaps a week earlier than expected, immediately followed by Syrah, old-vine Zinfandel and all the Cabernet Sauvignon from a small vineyard owned by Tuolumne County Supervisor and Board Chair Karl Rodefer. They have since harvested several other varieties they work with, which includes Verdejo, Albarino and Cinsault.
The Luckhardts currently do not personally grow any of the grapes they use, although they are toying with down-the-line thoughts of planting some on a 28-acre parcel they own in Chinese Camp, if the demand for their products continues to increase. They greatly credit their success to having Hovey onboard as their winemaker before his health crisis, along with strong symbiotic relationships with small acreage local growers across several micro-climates. Almost all of these vineyards are on wells that continue to hold up, Luckhardt notes. "We have been very fortunate here in Tuolumne County. A lot of folks don't know but there are quite a lot of small family vineyards that are growing grapes here that are doing very well – creating great grapes for us," he humbly emphasizes.
Strong Local Support Continues To Spur Growth
Plans at Inner Sanctum are to continue buying and sourcing Spanish and Italian varietals from the area. "I think up here in the foothills, especially here in Tuolumne County, our Spanish wine[grapes] really like this climate…soil…the cooling at night," Luckhardt confides. Back in 2010, when he and Karen first set up shop, they produced about 200 cases of wine, all made from the better-known, classic red varietals Cabernet Sauvignon and Merlot. Earlier this year, having exceeded existing winemaking space shared with Gianelli, Inner Sanctum leased more room to move at a warehouse facility in Copperopolis. It also tapped the services of winemaker Rich Gilpin, who also works for Lavender Ridge.
"Over the years, we really decided to move forward and our local populations really embraced what we are doing. So, now we are proudly harvesting close to 30 tons of grapes this year and probably close to 1,500 cases of wine compared to when we started," Luckhardt shares. Glowingly, he refers to the fact that nearly three-quarters of their 450-plus wine club members come from local zip codes. "We are surrounded by great people…growers, winemaking…Tuolumne County is a really great place to do this," he enthuses.
Also chiming in on the overall 2016 harvest is Stephen Collum, who owns Vineyard Concepts, a management, consultant and vineyard development company in Calaveras County. He counts 12 vineyards and 15 or more wineries between Calaveras and Tuolumne counties under his charge. Despite a few early heat spikes, he describes the weather as still holding out nicely and that harvest activities will continue through October before winding down. "Even though we have been picking every day for almost two months, it has gone rather smoothly and a lot of the wineries have said that, too."
Continuing his assessment, Collum states, "The last two years have been really short years. This year almost looks normal – more than the last two years. All in all, we finally have about average in terms of yield. I take care of 46 different varietals..some have been normal or average. The yields are never high here because the berries, clusters are so small here, unlike the valley — about two-and-a-half to four tons per acre." When possible, winemakers like to let the wines make themselves in the vineyards Collum points out. As he explains, "I encourage winemakers to pick by flavors before the numbers. The flavors came on a lot earlier this year in quite a few years…and are some of the best flavors in years. From my gut feeling, just from the flavors I am getting…I think it is really going to be a very good vintage year."
Calaveras Grown Opportunities?
Concurring with Luckhardt on the strong suitability of Mediterranean varietals in the Mother Lode as well as popularity of small local vineyards with wineries that are beginning to hit their stride, Collum shares what he calls a huge potential to help provide enough Calaveras-grown fruit for wine producers looking to source within the appellation.
When jokingly asked whether cannabis might be a less expensive crop to produce than winegrapes, which require trellising, deer-fencing and bird-netting, just to name a few of the necessities, he laughs outright. It might seem that way on the surface, he says, but certainly there are a lot of other issues to consider, down-the-line.
He opines, "Cannabis might be cheaper – I don't care what anyone grows as long as they are regulated as I am regulated [growing grapes] — but [for example] cannabis growers cannot currently spray any pesticides which requires going through the EPA, a federal agency, which does not recognize it as a [legal] crop." Ending the interview he is still chuckling, obviously remaining rooted in the wine country future in Calaveras.