Supervisors Approve O'Byrnes Ferry Business Park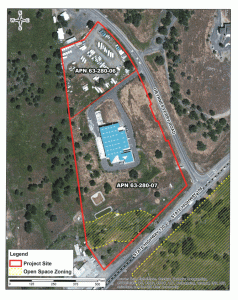 O'Byrnes Ferry Business Park Site

View Photos
Sonora, CA — The Tuolumne County Board of Supervisors approved plans for a commercial development project at the intersection of Highway 108 and O'Byrnes Ferry Road.
The O'Byrnes Ferry Business Park will add 10,000 sq. ft. to an existing 28,000 sq. ft. building. Plans include having additional boat storage, retail space, an indoor farmers market, gas station, sandwich shop and office space.
Community Resources Agency Director Bev Shane pointed out that nine people had submitted letters in opposition to the project. Topics ranged from increased traffic, to neighbors being concerned that there is no public water service, and the project would rely on a well.
After discussion, which included talk about the economic benefits, the project was approved 5-0. The Supervisors did stipulate a wire fence be constructed around the property to prevent people from loitering on nearby ranchland.