Update: Suspicious Death In Calaveras Under Investigation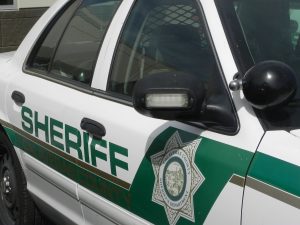 Calaveras County Sheriff

View Photos
Update at 3:15 p.m.: Calaveras sheriff's officials say the are proceeding to investigate the case of a deceased woman found in a San Andreas apartment as a homicide.
As Calaveras County Sheriff's spokesperson Lt. Chris Hewitt explains, "There is a natural death where it could be a doctor's attended — or [the deceased] had a poor medical history where they died of natural causes. We investigate those differently than these types. So, when we have a suspicious death of this nature, then we investigate it as a homicide, until proven otherwise."
Although case information continues to be closely held and investigators are anticipating findings by the Coroner's Office to provide essential details, Lt. Hewitt emphasizes that a missing SUV registered to the tenant of the apartment remains a vehicle of interest.
Hewitt and his colleagues would also like to talk to whoever took or is driving the SUV. Law enforcement officials, who are actively seeking the silver 2004 Chevrolet Tahoe with the California license plate 7NUG011, ask anyone who sees it to not contact or engage the driver but to instead immediately call their local sheriff's, police or CHP office.
Original Post at 11:42 a.m.: San Andreas, CA — Local law officials have questions concerning their discovery of a deceased woman inside a San Andreas apartment this morning.
Just before 9:30 a.m. the Calaveras County Sheriff's Office dispatched deputies to the Creekside Apartment complex after receiving a report from concerned neighbors who had not seen the woman in several days. While conducting a welfare check deputies reportedly located a deceased female in the apartment.
While the identity and cause of death will be coming in the days ahead from the Coroner's Office, investigators say that a vehicle registered to the tenant was determined to be missing, possibly indicating suspicious death circumstances. Currently, no other details are being released other than the vehicle description, which is as follows: a silver 2004 Chevrolet Tahoe SUV with the California license plate 7NUG011.
The sheriff's office is requesting anyone with information about the vehicle's whereabouts or the case to call the Investigation Division at 209 754-6500 — or the anonymous tip line at 209 754-6030.