Two Fires Bring Smoke To Mother Lode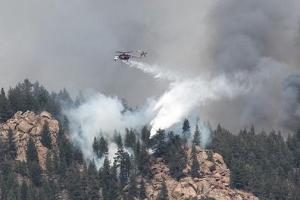 Owen River Fire in the Inyo National Forest

View Photos
Sonora, CA — If you smell smoke and see haze in the skies over the Mother Lode, Cal Fire attributes it to two blazes burning in Monterey County and the Inyo National Forest.
Cal Fire reports windy conditions are bringing smoke up from the Soberanes Fire, which is more than 121,000 acres and 71 percent contained, and the Owen River Fire burning in the Inyo National Forest.  The latter has burned over 6,000 acres and is 20 percent contained. The flames broke out north of the Owens River Road area near Clark Canyon, east of Highway 395.
As reported over the weekend, Columbia aircraft assisted in battling the Owen River Fire but were released on Monday, according to Cal Fire. However, five local engines remain on the scene. The total number of personnel fighting the fire is 536. U.S. Forest Officials report that crews are focusing their efforts along the Owens River Road to protect nearby private developments and ranches. The Big Springs Campground, Clark Canyon, and nearby ranches and developments have been evacuated. The estimated containment date for both fires is Friday, September 30.