Construction Underway For New Transit Center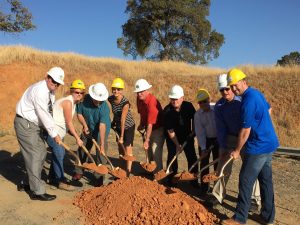 Groundbreaking For Transit Center at Law and Justice Center site

View Photos
Sonora, CA — Tuolumne County leaders broke ground late yesterday on the second major project out at the law and justice center site off Old Wards Ferry Road.
A new 1,300 sq. ft. transit center is being constructed. It will be able to accommodate up to 40 people and include restrooms, all the latest technology and security. Tuolumne County Transportation Council Executive Director Darin Grossi notes, "What people will find when we later do the grand opening ceremony is that this is an absolutely gorgeous piece of property with beautiful views to the south towards Yosemite."
When it comes to the dollar amount allocated, Grossi says, "This project is about $1.9 million, which is a tough amount to budget for a project like this, but we were able to find the funding. And I should note that these are all transit funds and cannot be used on other purposes like road maintenance and things like that. It is specifically (state) bond money that the voters approved for transit projects."
The overall project also includes a road extension that will go to the transit center and then connect to the future jail. The road should be completed before winter hits and the transit facility should open around March or April.
Meanwhile, the first project at the law and justice site, the Juvenile Detention facility, is expected to have a ribbon cutting in early November with the facility opening around the first of the year.
Speakers at yesterday's ground breaking included Grossi, Transportation Council Chair Mike Ayala, Board of Supervisors Chairman Karl Rodefer, Supervisor John Gray and Sonora Mayor Connie Williams.