Sonora High Beats Rival Oakdale: Summerville and Calaveras Also Open With Victories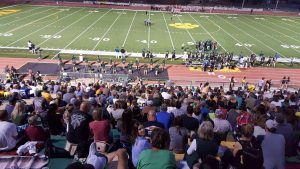 Sonora High Football

View Photos
Sonora, CA — Sonora High opened the newly renovated Dunlavy Field with a win for the first time in years over the Oakdale Mustangs.
Josh Harris opened the scoring with a six yard TD run in the 1st quarter. The Wildcats got 2 interceptions in the 2nd quarter with Kane Rodgers returning one for a touchdown and Sophomore Evan Bearden getting his first varsity pick. The Cats offense got in on the scoring with a 22 yard TD run.
In the 3rd quarter, Oakdale made some adjustments and had a fumble bounce into a defenders hands and retuned it untouched to get on the board.
Riley Garrett added 6 points on a 55 yard reception.
In the 4th quarter Sonora added one more interception.
Both teams had issues with turnovers throughout the game which led to stalled drives.
The final score was Sonora 27 and Oakdale 13.
It is unknown if Oakdale and Sonora will compete in this great rivalry after this season, but Wildcat fans left ecstatic after a Sonora High win.
Summerville High School also opened the season strong with a road win over Denair, 27-19.  Fumbles caused issues for the Bears early in the game. Trailing 13-19 at halftime the Bears needed a turnaround. They found it with running game by using Dominic Esquviel who had 174 yards and Zach Marquez chalking up a solid 70, and both scoring touchdowns. In the final minute, Denair QB Kyle Prock went for the end zone to only find Dawson Robles for the interception and a Bears win.
Meanwhile, Calaveras High School defeated El Capitan 25-7. Bret Harte High School opens its season next week.
Mark Ferreira and Brandon Steele contributed to this report.
A special thanks to community news partner Kris Persson for emailing high school football photos. Throughout the season pictures can be sent to news@clarkebroadcasting.com.