Gov Brown Reverses Board of Parole's Decision To Release Hyatt Again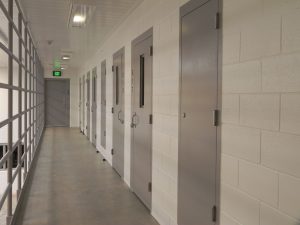 Calaveras Jail

View Photos
Sonora, CA — Despite the California Board of Parole finding convicted murderer Thomas Hyatt suitable for parol he will remain behind bars. Tuolumne County District Attorney Laura Krieg announced today that Gov. Brown has reviewed and reversed the Board of Parole's decision.
Krieg presented arguments opposing Hayatt's release to the RJ Donovan State Prison Board of Parole in San Diego on April 7, 2016. The board granted Hyatt a release date but late last week Governor Brown found in light of all of the evidence Hyatt currently poses an unreasonable danger to society if released from prison.
This is the second time Hyatt has been found suitable for parole and then the decision has been reversed. Governor Brown also reversed the board's October 29, 2014 decision to release Hyatt on March 11, 2015. Krieg says, "Generally a Governor's reversal is an automatic three year denial. Hyatt should not be eligible for another parole hearing until 2019."
On August 14, 1992, Hyatt was sentenced in Tuolumne County Superior Court to 26 years to life in prison. He was convicted of killing Henri Morlet on the night of November 3, 1991. The report of the details of the murder in the rear parking lot of the World Savings Bank off of Church Street in Sonora are graphic. Hyatt and Morlet were acquaintances and had been drinking. At some point in the evening they purchased some beer at a gas station and then walked over behind the World Savings where they drank it. Hyatt claimed while behind the bank, Morlet made a "sexual advance" at him. In response, Hyatt beat Morlet by punching and kicking him in the head and body and stabbing him several times. Hyatt then went to another friend's house and told him about the stabbing. Six hours later, the two returned to the scene of the crime and found that Morlet was still alive. Morlet lay moaning for help and pleading for his life. Hyatt stabbed Morlet several more times and cut his throat, killing him.