Public Concerns Over Butte Fire Hazardous Tree Removal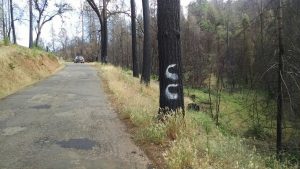 Calaveras County trees marked for removal

View Photos
San Andreas, CA — Calaveras County wants to alert the public that trying to hide or cover markings designating dead trees within the Butte Fire burn scar to be cut down could be creating safety hazards.
As previously reported, the county has hired Tetra Tech Inc. and Butler Enterprises to deal with the hazardous tree removal on the fire footprint along county roadways.  During the past week, a team of arborists have been identifying dead trees by painting "CC" on them, as can be seen in the picture in the upper left-hand image box. However, some citizens complained that some of the trees have green on them and are concerned not all of the trees marked are actually dead, according to county spokesperson Sharon Torrence. She explains that since FEMA funds are paying for the removal its rules apply, stating, "If the tree is 75 percent burned, FEMA rules say that that tree will not survive."
The county's concern is that the trees being designated hazardous are at least 6 inches in diameter, 4.5 feet above the ground line and if they fall would endanger the public health and safety. Torrence adds that any attempt to remove, cover, repaint or obscure the tree markings is fruitless, pointing out, "The trees are being documented with GPS numbers.  So, we still know where those trees are and can find them. So, we are asking people, please not to remove those markings."
Additionally, to deal with the public's concerns and any questions, Torrence says the county plans to hold a couple of town hall meetings in the next several weeks. The exact date, times and locations have yet to be announced.  Torrence also wants to stress that arborist and crews will not step on private property without the owner's permission.