Butte Fire Hazardous Tree Removal Begins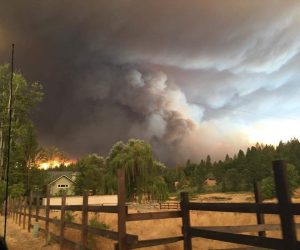 2015 Butte Fire Visible From Glencoe

View Photos
Calaveras County, CA — With the debris removal complete Calaveras County sets its sights on the next phase of clean up — cutting down hazardous trees.
Effective immediately, and continuing through Labor Day, a team of arborists will be traveling through the Butte Fire burn area to identify and document trees that need to be removed. County Spokesperson Sharon Torrence says, "Crews will have a letter identifying them and citizens can ask to see the letter. They will also be wearing orange vests and hard hats."
Once there has been a significant number of trees identified, contractors will begin the removal process.  As for private lands, Torrence indicates, "For trees on private property that threaten public roadways, property owners will be contacted and asked to sign a Right-of-Entry form to further evaluate those trees."
The county estimates that around 5,800 trees need to be removed.  FEMA and the Governor's Office of Emergency Services (Cal-OES) are footing the bill. However, property owners with insurance apply for the coverage's benefits. Private land owners that choose not to have their hazardous trees removed will remain liable for damage caused by hazardous trees falling onto county toads, according to Torrence.