Permits Needed Next Month To Burn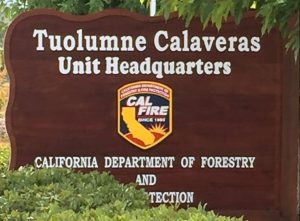 Cal Fire Tuolumne Calaveras Unit HQ sign

View Photos
San Andreas, CA – Beginning next week the public must have a permit to light up burn piles in the Mother Lode.
Cal Fire will start requiring permit on Sunday, May 1 at 8:00 a.m. in several counties including Tuolumne and Calaveras.  Burn hours will vary.  It is the public responsibility to check with the Air Pollution Control District for those times and to see if it is a permissive burn day. The public can also go to the myMotherlode.com's home page where the information is updated daily.
The pile size can be no larger than four feet in diameter, and four feet high with a bare mineral soil clearing 10 feet from the burn pile's outer edge.  Cal Fire cautions against burning on a windy days even if it is a burn day.  Never leave a burn pile unattended and keep water  along with a shovel nearby, warn fire officials.
With fire stations not fully staffed yet, permits may be obtained during business hours Monday through Friday, at these location provided by Cal Fire:
CAL FIRE Headquarters, 785 Mountain Ranch Road, San Andreas (closed from noon to 1 p.m.)
Valley Springs FFS, 1855 New Hogan Parkway, Valley Springs
Altaville FFS, 125 North Main St, Altaville
Esperanza FFS, 9740 Mountain Ranch Road, Mountain Ranch
West Point FFS, 22670 Highway 26, West Point
Arnold FFS, 2517 Highway 4, Arnold
Standard FFS, 18464 Striker Court, Sonora
Twain Harte FFS, 22978 Meadow Drive, Twain Harte
Station 76, 18249 4th Street, Jamestown
Station 51, 1950 Hillsdale Drive, Mono Village, Sonora
Blanchard FFS, 2990 Highway 132, La Grange
Green Springs, 11600 La Grange Road, Jamestown
Groveland FFS, 11700 Merrell Rd, Groveland
Groveland CSD, 18930 Highway 120, Groveland