$25,000 Check A Hit At 'Family Fit Night'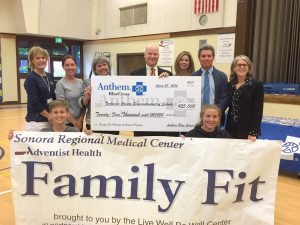 Family Fit Night, Sonora Elementary, April 28, 2016

View Photos
Sonora, CA – It was indeed, a "Family Fit" evening Thursday with a $25,000 windfall adding to the thrills.
Sonora Elementary School students, their families, school officials and an affable visitor with a big check gathered in the school gym for fun fitness and snacks as part of a local initiative that is focusing on providing targeted healthy lifestyle education to local third-graders and their parents.
Jointly administered by Sonora Regional Medical Center and the Tuolumne County Superintendent of Schools Office, last night's event is part of a new "Family Fit" wave, made possible through a $25,000 grant from Anthem Blue Cross.
Beaming from ear to ear, Anthem's Central Region Health Plan Executive Director Daniel Shydler was clearly in his element, surrounded by kids kickboxing and bouncing balls, as he presented the $25,000 check.
'Fit' Learning Tailored For Younger Audience   
Shydler shares that this latest grant builds on from a previous one Anthem locally awarded to initially engage middle-grade students. "We were tremendously impressed by the passion of Margie Bulkin, the superintendent of Tuolumne County Schools."
Continuing his praise, he states, "Her ability, her organization of the resources that are necessary and her vision of how to engage children, first at the 5th, 7th and 8th grade and now at the 3rd grade [level] to create a life-long learning process to make the right health choices, the right food choices…and learn how to…be active…is all on the path to make a healthy lifestyle. That is where we, at Anthem, believe we all need to go, as a community."
Pointing out an unfortunate truth, Shydler states, "Obesity is almost an epidemic in many of our counties and markets in California…this [program] is a way to be able to help individuals to make the right decisions – learn how to make the right decisions about food and activity — to help avoid, both obesity and issues that can happen while they are young…that can continue later in life – so they will have a healthier, longer life."
Importing, Exporting Valuable Resources
Anthem's foundation, according to Shydler, looks for opportunities like this to invest in communities where it sees alignments with its goals to help build healthier communities and provide greater access to resources. "We look to be able to potentially identify different pockets to maybe create best practices that can be imported or exported to other…counties…or…areas — to help assure that the funding is appropriately spent and the largest value comes back from it," he explains.
Dietician Jodie Rodriguez, who helped launch the program, previously shared that "Family Fit" results have already contributed to a huge improvement in average fitness levels among participating students. These kinds of results, especially when they involve those at earlier ages, have a much greater potential to bring long-lasting positive impacts.