Groveland Man Jailed Following High-speed Interstate Chase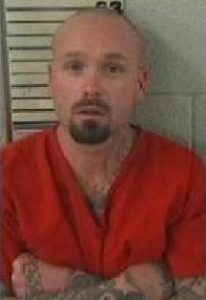 Kenneth Ray Franklin, booking photo

View Photos
Elko, NV — A Groveland man, already wanted on California drug warrant, led Idaho and Nevada law enforcement officials on a high-speed chase as his passenger overdosed next to him.
According to Elko County Undersheriff Clair Morris, the incident occurred Monday, around 1:45 in the afternoon. He recounts, "We received a telephone call from the Idaho State Police that they had a vehicle stopped about 12 miles north of the Nevada border…the trooper…was in the process of issuing a citation when the individual decided to leave at that time…flipped a U-turn and headed south on Highway 93 back into Nevada."
Idaho State Police gave chase to the Nevada state line, where Elko County deputies picked up pursuit near the town of Jackpot, following the vehicle for nearly 60 miles at speeds in excess of 100 miles per hour. According to Morris, "Prior to leaving Idaho, they did throw…a weapon and some narcotics out of the vehicle that were recovered by Idaho State Police. We set up spike strips on Highway 93 trying to stop the vehicle. [The deputies] were unsuccessful in the first attempt…in the second attempt [the subjects] chose to drive off the road and subsequently got stuck in their car."
Wild Chase Ends With Multiple Charges, Lifesaving Measures
At that time, Morris states, Kenneth Ray Franklin, 38, of Groveland was taken into custody without incident. "There was a large amount of narcotics in the vehicle, and he was charged with possession of narcotics, and of course, all the charges pertaining to the pursuit up to that point, too." Initially booked on charges of speeding 31 miles-per-hour or more over the posted speed limit, driving with a suspended driver's license, disobeying a peace officer, endangering others, and possession of a controlled substance, Franklin's bail was initially set at $11,125. It increased another $50,000 when the sheriff's office learned he was also wanted on other drug charges in California.
Later arrested was Franklin's passenger, Paul Allen Overley, 31, of Billings, Montana. Charged for possession of a controlled substance and a felony warrant out of California, his bail was set at $10,000. According to Undersheriff Morris, while attempting to get rid of the drugs in their possession, Overley decided to ingest some and subsequently suffered a massive overdose. Describing how close that call came for the suspect, Morris states, "He had quit breathing – he had quite a bit of drugs in his system to include marijuana, heroin, methamphetamine, and Ecstasy. He shutdown…had to be revived and spent a day and a half in the hospital."
The vehicle, a rental Toyota, was hauled away and secured. The investigation is ongoing, according to Morris, who notes, "We are presently executing a search warrant on the vehicle they were driving to see if there is anything else…we haven't completed that search, at this time, anyway." It is quite possible, he says, that additional charges will come from that. "They were trying to throw all kinds of things out of the sunroof, including a large amount of methamphetamine that actually blew back in…all over the car," he points out. Too, the Idaho State Police have not yet indicated if charges are forthcoming from their unit officers' recovery of the handgun and drugs that were tossed out of the vehicle while it was still within their jurisdiction.