Stormwater Concerns Sparks Caltrans Outreach To Motorists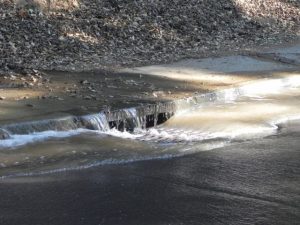 Water Running Into Storm Drain

View Photos
Sacramento, CA – Calling attention to stormwater quality issues, Caltrans officials are asking motorists to be more mindful about potential impacts of their actions on runoff.
Caltrans is concerned enough about pollution from storm drain ditches and pipes winding up in California waterways that today it officially launched "Protect Every Drop," a public education and outreach campaign to make folks more aware about sources and pathways of runoff pollutants on water quality in streams, rivers, lakes and coastal waters. Caltrans owns and operates storm drain systems along more than 15,000 miles of the state highway system that discharge into every major watershed. Tests confirm that, after it rains, elevated levels of pollution are evident in virtually all of these waters. As evident lower water levels persist during the ongoing drought, pollutants become more concentrated.
Ahead of anticipated heavy rains later this week, Caltrans spokesperson Vanessa Wiseman states, "We are asking folks to take some time to look at a few things they can do to reduce the pollution that can come off of cars and highways and actually increase the amount of pollution in our stormwater…and our water levels." She adds, "Cigarette butts are a major concern and they remain one of the top littered items that are along the highways — not only do they present a fire hazard, the toxic chemicals in them can easily wash down storm drains and end up in our water system."
The new campaign suggests actions the public can take to reduce pollution from their vehicles such as sediments, metals from tire and brake wear, and fluid leaks by making sure to conduct routine maintenance. It also reinforces the continued need to reduce litter by properly disposing of trash and recycling — and ensuring that truckloads are securely covered or "tarped," to keep the contents from falling or blowing off during travel.