GOP: Obama's War On American Energy & Jobs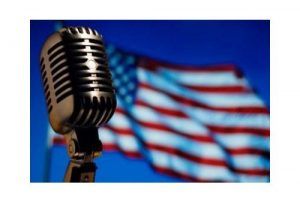 Microphone and US Flag

View Photos
House Majority Whip Steve Scalise (R-Louisiana) delivered this week's Republican address and discussed his party's position on energy and jobs.
"Hi, I'm House Majority Whip Steve Scalise, and on this President's Day weekend, I'm honored to be speaking to you from the Lincoln Room in the United States Capitol.
Right now, we're all paying less for gas than we have in years. In some states, they're talking about prices going down to 99 cents per gallon. For families struggling to get by, that's much-needed extra money back in their pockets.
But not for long, if President Obama has his way.
This week, tucked in his budget, the president proposed a $65 billion a year tax that would raise the cost of gasoline by, on average, 25 cents for every gallon you buy. You'll hear them call this a tax on oil, but even the White House admits that this new tax would be passed directly on to hard-working families.
It gets worse. Analysts say this tax would increase the cost of basic household goods. Everything from heating oil to the food you buy at the grocery store. The bottom line is this: you would be taking home less, so that President Obama can spend more.
That's why we have declared this absurd proposal dead on arrival in Congress. It's dead on arrival because we stand with the American people who know they're already paying too much in taxes, and we agree.
So that's one piece of good news. Here's another:
On Tuesday, the Supreme Court blocked the EPA climate rule at the heart of the president's war on coal, which has destroyed jobs across our country.
If you look at the proposals coming out of the president's EPA, in my home state of Louisiana alone, we would suffer more than 16,000 jobs lost, and families would see increases of more than 20 percent in their household electricity costs.
Again, this is President Obama's vision. He said that under his policies, electricity prices would have to 'necessarily skyrocket.' His first Energy Secretary said 'we have to figure out how to boost the price of gasoline to the levels in Europe,' where they pay 6 to 7 dollars per gallon. He vetoed the Keystone pipeline. He launched an all-out assault on coal country.
The president will try anything he can—even stretch the limits of his power—to keep American-made energy trapped in the ground. But we won't let that happen.
We will continue to use every tool we have to fight President Obama's war on American energy and jobs.
We need to maximize America's energy potential to help create jobs, keep costs down, and strengthen our national security. That's why we've blocked the president's attempts to expand the EPA. We've lifted the 40-year ban on oil exports, and we passed a plan for an all-of-the-above energy strategy. We'll keep advancing more bold ideas like these in the coming months.
This is just one of the many ways we are committed to restoring a Confident America at home and abroad. Thank you, and God bless America.
The "Newsmaker of the Day" is heard every weekday morning on AM 1450 KVML at 6:45, 7:45 and 8:45 AM.