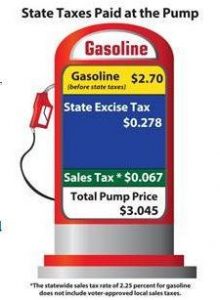 BOE Gas Prices graphic

View Photos
Sacramento, CA — For the third year in row, the state's Board of Equalization (BOE) will consider giving California resident a break at the pump by lowering the "Gasoline Excise Tax Rate."
The proposal involves cutting the excise tax on gasoline by 2.2 cents per gallon making it 27.8 cents per gallon down from 30 cents. The rate will take effect July 1, 2016 through June 30, 2017, if adopted.
Board of Equalization Vice Chair George Runner supports the decrease, stating, "Californians overpaid gas tax last year due to a bizarre and complex formula that most people don't understand." He argues, "Californians need a clear tax system that's easy to understand. The current gas tax formula is a convoluted scheme enacted by the governor and Legislature in 2010. The lack of transparency continues to erode public confidence; the public deserves to know how much tax is being collected and how it's being spent."
Currently, there are two types of state taxes on gas, which include a sales tax on a percentage of the price and a per-gallon excise tax. The BOE collected nearly $5.4 billion in excise tax in fiscal year 2014-15, which help pay for the state's infrastructure and public transportation projects.  Runner criticizes, "Some will use this adjustment as an opportunity to clamor for tax increases. The reality is that there is more than enough money available to repair our roads without raising taxes. It's all about spending priorities."
The board is scheduled to vote on the tax reduction at its February 23, 2016 meeting in Culver City.