Suspect Tosses Drugs, Still Nailed By Deputies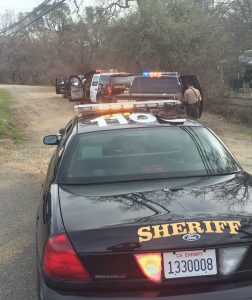 Gregory Meder Detained off Tuolumne Road, Feb 11, 2016

View Photos
Sonora, CA — A Jackson man led law enforcement on a car and foot chase in Sonora, while allegedly dumping drugs from the vehicle.
Tuolumne County Sheriff's officials reports a deputy recognized 36-year-old Gregory Meder, wanted on an outstanding felony warrant, as he drove past him on Tuolumne Road at 3 p.m. on Thursday.  When the deputy tried to pull over Meder in the KIA Sol he was driving, he took off.  Sgt. Andrea Benson says, "Meder drove into oncoming traffic, made a u turn and then continued driving approximately one mile east bound on Tuolumne road.  Meder then pulled into a driveway off of Tuolumne Road near Nugget Boulevard and jumped out of the vehicle, attempting to flee.  He was taken into custody without incident."
During a search of the area deputies found a baggie with 5 grams of methamphetamine on the ground. Meder's bail is set at $27,500.  He faces felony charges of possession of a controlled substance, possession of controlled substance paraphernalia.  Meder's outstanding felony warrant was for receiving known stolen property and for being a person prohibited to own or possess ammunition.