2nd Saturday Art Night Committee's Mini-Grants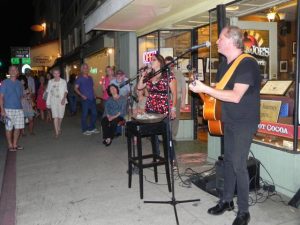 Musicians in Sonora

View Photos
The Sonora 2nd Saturday Art Night Committee is now accepting applications for local performers to receive a $300 Mountain Performers' Fund mini-grant. The committee will award seven $300 stipends that are intended to help 2nd Saturday Art Night performers improve their opportunities for generating more performances and enhancing their professional performance goals.
B.Z. Smith, local arts advocate and 2nd Saturday Arts Night committee member, was Wednesday's KVML "Newsmaker of the Day".
Request letters will be accepted until March 20th, 2016. Award-winners will be announced on April 1st, 2016. There are a few criteria to qualify for one of the $300 stipends: #1) Applicants must have performed for at least five Sonora 2nd Saturday Art Nights, and #2) Applicants must submit a letter explaining how the $300 would be used to promote their performances and /or business profile. Letters can be sent by post to "2nd Sat Art Night," c/o Sonora Chamber of Commerce, P.O. Box 4046, Sonora, CA 95370. Applicants can also email their requests to or call the Art Night contact phone at 209.532.7697.
"We will select recipients on a first come-first serve basis," says Sarah Nesper of the Art Night team. "We highly recommend that performers get their application requests turned in as soon as possible." The team will verify that the applicants have been a regular part of Art Night in order to qualify.
Last year the 2nd Saturday Art Night Committee founded the Mountain Performers' Fund to support the many performers, who donate their talents to 2nd Saturday Art Night. To earn funds, the committee hosted three special fund raising events, named 2nd Sat After 8. These events also brought added late-night entertainment to the historic downtown. "At year's end we had earned $2100 for this special fund," states Katie Dunn, who coordinated the popular Songbird Saturday After 8 event. "After much thought and consultations with local performers, the committee voted to distribute these seven $300 mini-grants."
"We've gotten good feedback that these grants will be well-used," notes Smith. "Sometimes it's hard to set aside money that is to improve one's business presence. Or there may be an item that is more expensive that anticipated." The committee has generated a suggested list, including such things as getting group or head shot photos, setting up recording sessions, starting a business website, making a promotional video, creating a brochure, updating costumes, repairing an instrument, or attending special lessons or workshops. "Afterward, we hope to see the results!" says Smith. In addition, performers who are actively pursuing a business model for their art should contact the Tuolumne County SCORE program for mentoring on best business practices through their website at www.tuolumnecounty.score.org. The SCORE program partners with the Tuolumne County Business Alliance, and is part of the United States Small Business Association.
Sonora 2nd Saturday Art Night is now preparing for its next 2nd Sat After 8 event with the next Songbird Saturday on tap for May 14th, 2016, at Stage 3 Theatre. "We're excited to offer this special night again," says Dunn. "Right now we're visiting shows to scout out musicians to invite. That job is a lot of fun!"
For more information about applying for a Mountain Performers' Fund mini-grant or donating to the fund, please visit www.2ndsaturdayartnight.org/contact-us.html, or call Smith at 209.532.7697.
The "Newsmaker of the Day" is heard every weekday morning on AM 1450 KVML at 6:45, 7:45 and 8:45 AM.