Voters Could Decide Whether To Breakup State's Utilities Commission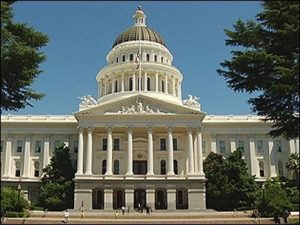 California Statehouse

View Photos
Sacramento, CA — The California Public Utilities Commission could be a thing of the past if a state lawmaker has his way.
Yesterday Democratic Assemblyman Mike Gatto introduced plans for a Constitutional amendment that would break up the California Public Utilities Commission. The commission is tasked with overseeing the state's utilities, such as electricity and railroad safety. At a press conference, Gatto argued, "Our concern is that the CPUC is too big to succeed. It is time to hit the reset button." The commission has received recent scrutiny over a perceived lack of transparency, and allegedly failing to identify warnings about a recent Alisao Canyon gas leak in southern California that left several with health problems.
The legislation calls for the commission to be broken up in the year 2018 and the oversight tasks would be reassigned to other more localized entities. To move forward, Gatto's Constitutional amendment would need approval of 2/3 of the California legislature, and if so, it would then go before California voters for a final decision via a ballot measure.