Rainfall Data To Date Trending Well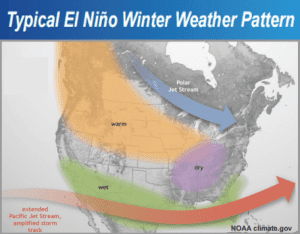 Typical El Nino cold season storm pattern, , January 2016

View Photos
Sonora, CA — Mirroring local optimism — and in advance of more wet weather shortly coming our way — local rainfall data is pacing well ahead of average.
According to TUD spokesperson Lisa Westbrook, as of Monday morning, Sonora had received approximately 17 inches of accumulated rainfall since the beginning of last October, which marked the beginning of the current water-year. That is five more inches than the average of 12 inches the area generally receives by this time of year and an uptrend of roughly 42 percent.
While during the 1996-97 water year — the wettest on record and an El Nino year — Sonora had already accumulated about 32 inches by this date, the same period in both 2012 and 2014 provides a sharp contrast as by this time during those years the area received just two inches of precipitation. "It is looking so much better than last year," Westbrook enthuses, noting that TUD tracks the storms as they come in and that with El Nino in effect, precipitation can vary greatly, depending on how the weather rolls in. Data pertaining to the Mother Lode data is logged as part of the San Joaquin Precipitation Table: Five-Station Index (see reader-friendly chart slideshow in the left image box for more details). Of course, as Westbrook points out, "The biggest part of our water supply is the snowpack, so every storm that comes in and brings snow is a great sign for Tuolumne County."
The Drought Still Reigns 
In spite of the welcome rains, Westbrook states, "The drought is not over, and we do want people to be aware of their water use…we are just hoping that those systems still keep coming in…the latest that we have heard about the storm coming in Tuesday night into Wednesday is a little bit warmer than we have had — but still — snow above 5,000 to 6,000 feet is perfect…as long as it keeps coming."
As state water officials continue to iterate, water storage levels in reservoirs across the state remain critically low, reflecting continued critical drought conditions. Locally, New Melones now stands at 330,087 acre-feet (AF), which is about 14 percent of its capacity and 24 percent of its historical average for this time of year. For comparison sake, at this time during the low-benchmark water-year back in 1977 the reservoir was dry. In 1983, the benchmark high year, New Melones contained some 1.3 million more acre-feet than the current amount at this time of the year. Lake Don Pedro, currently measuring at 730,425 AF, is at 54 percent of its historic average and 36 percent of its total capacity. It is nearly as low as it was during this time back in 1977; about a million AF lower than in 1983.