Dollar General Decision Appealed To Supervisors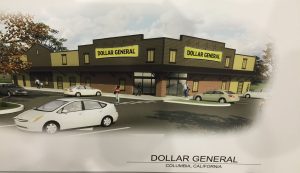 Columbia Dollar General Artist Rendering

View Photos
Sonora, CA — One week after the Tuolumne County Planning Commission voted down a proposal for a Dollar General store in Columbia, the developer has filed an appeal to the county.
Joe Dell filed the paperwork, on behalf of Cross Development. The company will see if the Tuolumne County Board of Supervisors has a different opinion than the planning commission. Tuolumne County Community Resources Agency Director Bev Shane says the supervisors will likely take up the item at a yet to be scheduled public hearing, sometime in February.
At the end of a nearly five-hour public hearing last Wednesday night, the Planning Commission voted 5-2 against issuing the needed permits for Dollar General. Around 50 people spoke in opposition to the project, and five people were in favor.  There were concerns raised about the increased traffic, impact on existing businesses, how it fits into the historic corridor, and whether it would hurt tourism.
To read the earlier story, click here.