Commission Denies Columbia Dollar General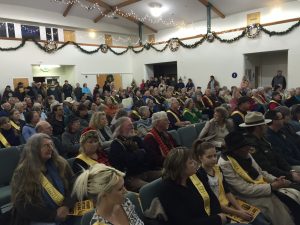 Planning Commission Takes Up Dollar General

View Photos
Sonora, CA — At the end of a nearly five hour marathon session, the Tuolumne County Planning Commission voted 5-2 to deny plans for a Columbia Dollar General Store.
At issue was whether to issue a site permit and conditional use permit for the roughly 9,100 sq. ft. retail store proposed for Parrotts Ferry Road. Five people came up and spoke in favor of the plans, of which, two were the project's developers. At one point during the time given for the proponents to speak there was so much heckling from the crowd that Planning Commission Chairman Dick Pland threatened to end tonight's meeting and postpone the hearing until a later date.
50 people then lined up and spoke in opposition to Dollar General. Arguments included, but were not limited to, safety concerns related to increased traffic, the fear of having the state park de-listed from historic registries, having "toxic" goods for sale, and the impact it would have on the longstanding local businesses.
When the final roll call came, Commissioners that were against Dollar General moving forward were Peter Rei, Charlotte Frazier, Peggy Mosley, John Latorre and Pland. Those in favor were Cole Pryzbyla and Jerry Baker. At the end of the meeting the crowd erupted in applause.
Tuolumne County Community Resources Agency Director Bev Shane noted that the decision can still be appealed to the Tuolumne County Board of Supervisors. Anyone is able to do so, but there is a $150 fee.