Habitat For Humanity Groundbreaking Event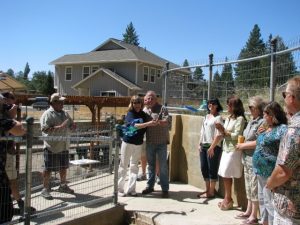 Gathering at Parrotts Ferry Village

View Photos
Habitat For Humanity of Tuolumne County is inviting you to a ceremonial groundbreaking event this Saturday.
Betsy Harden, Resource Development Manager for Habitat, was Thursday's KVML "Newsmaker of the Day".
"We're pleased to announce that we are having a ceremonial groundbreaking event for the next four Habitat homes to be built at Parrotts Ferry Village", said Harden. "Although we won't start building until January, we want to introduce our new partner families to the community before the hectic pace of the holiday season starts.
Harden is inviting the public to join them this Saturday November 14, as they bless these building sites and the families who will eventually have homes there.
The ceremony will start at 10:00 AM and take about half an hour. They will be giving tours of one of the already completed homes for those who would like to see what goes into building a Habitat home.
This is an opportunity to see the members of the Habitat community you might not usually meet – the staff, the Board of Directors, the volunteers who donate their time, the tradesmen who donate their service, and the sponsors who donate their dollars.
According to Harden, a house is not just a shelter – it is a foundation for stable life patterns.
At Saturday's groundbreaking, Harden says that there will be coffee, cider, muffins cookies and a great community spirit.
Habitat for Humanity of Tuolumne County is an independent affiliate of Habitat for Humanity, International. Like International, HFHTC is dedicated to eliminating substandard housing. Habitat believes every man, woman and child should have a decent, affordable home where they can live in dignity and safety.
As an independent affiliate, they are responsible for obtaining their our own funding for operations and to build homes. Most of the funding comes from local donations and grants. They typically build 1000-1200 square foot, single-family homes with three bedrooms, 1½ bathrooms.
Habitat sells the home to a selected family through a mortgage that is affordable based on the family's income. The mortgage payments are used to further Habitat's mission of wiping out substandard housing in Tuolumne County
All of the families Habitat serves fall into the category of low-income. To qualify for a Habitat house, a family must have an income that is 40-60% of the median county income.
The "Newsmaker of the Day" is heard each weekday morning on AM 1450 KVML at 6:45, 7:45 and 8:45am.