Sierra Nevada Winter Storm Warning Issued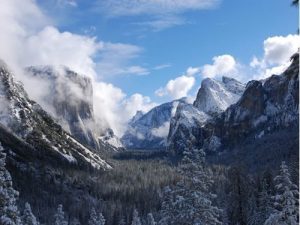 Snow in Yosemite Valley

View Photos
The National Weather Service has issued a Winter Storm Warning for the Sierra Nevada through 10 PM tonight for elevations above 5000 feet.
Snow levels will lower to 5000 feet by tonight, where accumulations of four to eight inches are possible.
Heavy snow accumulations of six to nineteen inches is expected above 7000 feet.
The heaviest snowfall is expected from late this morning into this evening.
Wind chill temperatures will be as low as the teens by this evening.
A Winter Storm Warning for heavy snow means severe winter weather conditions are either expected or are occurring. If you must travel in the Warning zone, keep an extra flashlight, food and water in your vehicle in case of an emergency.