GOP: Sanctuary Cities Risk Public Safety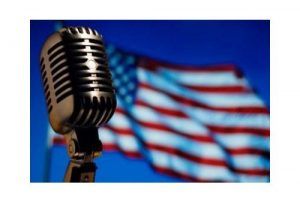 Microphone and US Flag

View Photos
Pennsylvania Sen. Pat Toomey gave this week's Republican address, talking about new legislation that would penalize "sanctuary" cities, or cities that forbid local police from working with immigration officials.
Toomey was Tuesday's KVML "Newsmaker of the Day". Here are his words:
"Hi, I'm Senator Pat Toomey of Pennsylvania.
Next week, the U.S. Senate is scheduled to vote on an important bill that's designed to help make our communities safer.
The bill addresses the terrible problem of 'sanctuary cities.'
It's a problem one father knows all too well.
Jim Steinle was walking arm-in-arm with his daughter Kate on a San Francisco pier. Suddenly a gunman opened fire, hitting Kate. She fell in her father's arms, pleading, 'help me, Dad,' as she bled to death. That shooter should never have been on the pier that day. He was an illegal immigrant, who had been previously convicted of seven felonies and deported five times.
Just three months earlier, the Department of Homeland Security had asked San Francisco police to hold this man until they could pick him up. But San Francisco refused to cooperate, and instead released the shooter.
Why did they do that?
Because San Francisco is a 'sanctuary city.' That means it forbids its local police officers from cooperating with federal immigration officials–even when they want to.
Think about how outrageous that is.
If federal officials had called about virtually any other crime—robbery, car theft, even violating a trademark—San Francisco police would have been allowed to cooperate. But because the crime involved illegal immigration, their hands were tied. The local police were forced to release this repeat criminal from custody, and he then went on to murder Kate Steinle.
As a father of three young children, I can't imagine the pain that Jim Steinle and his wife have endured.
But sadly, the Steinles are not alone. During an eight-month period last year, sanctuary cities across the country released thousands of illegal immigrants. Eighteen hundred of them were later arrested for criminal acts. These sanctuary policies are dangerous and they undermine enforcement of our immigration laws.
Now, please understand – this issue isn't really even about immigration – it's about stopping criminals and keeping our communities safe. Like many Americans, I support immigration reforms that include opportunities for more immigrants to come to America legally. And I don't for a minute suggest that most immigrants commit crimes. In fact, the opposite is true. The vast majority of legal immigrants are great additions to America, and we should welcome them.
But when illegal immigrants do commit violent crimes in our country, they must be arrested and deported. That's the law. And those, like the murderer of Kate Steinle, who've been deported previously because of their criminal acts, they should never be allowed back into our country.
Sanctuary cities undermine all of that. They stop local police from enforcing our immigration laws. They make a mockery of even modest attempts to deal with our badly broken immigration system.
Kate Steinle's murder shed light on the serious public safety risks that happen when sanctuary cities undermine law enforcement. In response, the House of Representatives passed legislation this summer with bipartisan support that would help rein in these policies. Now, it's the Senate's turn.
I've joined Louisiana Senator David Vitter in introducing the Stop Sanctuary Policies Act.
Under this commonsense legislation, sanctuary cities would lose federal funds if they maintain these danerous policies. We have to take this step in order to get these cities to do the right thing and stop undermining our immigration laws.
Our legislation also includes 'Kate's Law,' which provides a five-year mandatory minimum sentence for any illegal immigrant who re-enters the U.S after having been convicted of an aggravated felony, or having been twice convicted of illegally re-entering the U.S.
This should be a bipartisan effort. President Obama's own Secretary of Homeland Security has declared that sanctuary cities are, quote, 'not acceptable' and 'counter-productive to public safety.' After all, we're talking about criminals who the Obama Administration already has deemed dangerous enough to deserve removal from our country.
The Senate will vote on this legislation Tuesday. I urge you to speak out and encourage your Senators to vote for the Stop Sanctuary Policies Act and help keep our communities safe.
I'm Pennsylvania Senator Pat Toomey. Thank you for listening."
The "Newsmaker of the Day" is heard every weekday morning on AM 1450 KVML at 6:45, 7:45 and 8:45 AM.