Triple Fatal Crash Victims ID'd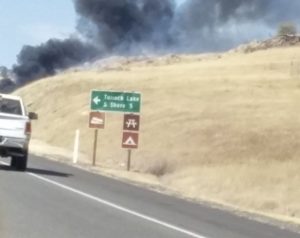 Triple Fatal Crash Hwy 108

View Photos
Tuolumne County, CA — The CHP reports a 10-year-old girl was one of the victims killed in the head-on wreck that sparked a 110-acre vegetation fire along Highway 108.
As previously reported, the crash happened Saturday at 4:05 p.m., just west of Tulloch Dam Road, when a 1997 Honda CRV going the wrong way on the eastbound lanes of the highway collided with a 2007 Toyota RAV 4. The Toyota went off the roadway, igniting the brush fire.
The victims in the Toyota included the lone passenger, Annika Zinsley, 10, and the driver, Rachel Shaninian, 50, both of Alameda. Also killed in the crash was the driver of the Honda, Sheila Weeks, 59, of Modesto.
In an earlier story, CHP Officer Nick Norton told Clarke Broadcasting that autopsies were done on the victims and investigators were awaiting toxicology test results to determine if drugs or alcohol were involved in the wreck, which could take two weeks to a couple months, according to Norton.
The crash and fire closed the highway's eastbound lanes for about four hours, while crews cleared the wreckage and firefighters battled the blaze.