Containment Update On Big Creek Fire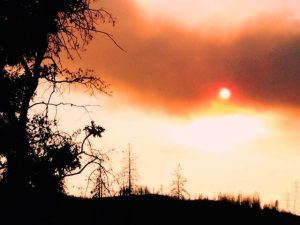 Smoke from Big Creek Fire from Rim of the World vista point on Hwy 120

View Photos
Groveland, CA – The acreage is holding at 204 and the containment has increased to 45 percent.
The latest update from Cal Fire reports that firefighters are continuing to lengthen and strengthen containment lines around the fire.  All aircraft have been pulled from the fire, according to Cal Fire spokesperson Nancy Longmore, who says, "The Air-Attack was over the fire for a brief time and then they went on to lightning strike recon. So, they apparently have no need for the aircraft, which is a good sign."
As previously reported,  CAL Fire, in partnership with the US Forest Service, report 43-year-old Lisa Ann Vilmur of the Groveland area was arrested Thursday night and charged with starting the fire.  Cal Fire reports the cause of the fire was due to an escaped debris burn. Vilmur is charged with one count of recklessly causing a fire. Her bail is set at $100,000. 
Currently, there are 585 firefighters battling the blaze along with 42 engines, five bulldozers, seven water tenders and 17 fire crews. Cal Fire is asking motorists to slow down in the fire area especially on Highway 120, where there is crew activity and equipment.
Agencies assisting include: US Forest Service, Tuolumne County Fire Department, Stanislaus Consolidated, Copperopolis Fire, Central Fire, San Andreas Fire, Georgetown, Diamond Springs, Santa Barbara County, Groveland Community Services District, Lathrop – Manteca, Los Angeles County, Orange County, California Office of Emergency Services, California Department of Corrections, Hetch Hetchy Water and Power, PG&E, California Highway Patrol, Tuolumne County.
A special thanks to our community minded partner June Woodward for sending in this photo. Pictures can be sent to news@clarkebroadcasting.com.