Mother Lode Plans Park-And-Ride Lots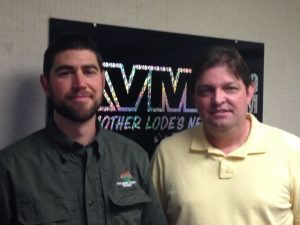 tuolumne county transportation planner

View Photos
Sonora, CA — A idea whose time has come to many other places before making it to the Mother Lode, "park-and-ride" lots are arriving on local transportation planning tables.
With the state's adoption of AB 32, which requires local governments and other entities to reduce their carbon emissions and Governor Jerry Brown's directive, issued back in January, to further reduce carbon emissions 50 percent below 1990 levels, Tuolumne County Transportation Council Executive Director Darin Grossi sees cap and trade funds becoming available to regions that will increase the likelihood for these types of transit support projects to be implemented.
Currently, Grossi says the county has at least one designated park-and-ride lot in operation. Located in Groveland, near the chamber of commerce and ranger building, it used by commuters to the Valley and as a meet up for Yosemite visitors.
Earlier this month, the City of Sonora requested and received approval to tap the last remaining federal Congestion Mitigation and Air Quality (CMAQ) funds for a park-and-ride in downtown Sonora. "This is the last funding available under that program available to Tuolumne County, at least until the standards change, and…the city wanted to go forward with a park-and-ride," Grossi explains. With an estimated budget of $145,000, the city has initiated an environmental review and identified potential sites. He estimates that, assuming right-of-way estimates would be accepted by some property owner, the project will move forward in one to two years.
For Tourists, Day-trippers…Commuters
Grossi notes that a park-and-ride downtown will address a need for additional parking through the Vision Sonora project. He says that it will also support the council's efforts towards implementing regional transportation services aimed at visitors who might stay in Sonora, or visit from outlying areas before riding transit to Yosemite and, during winter, the Dodge Ridge area. Buses already serve these locations, he points out, adding that, new service plans, potentially this summer, will expand local transit service to Pinecrest Lake.
"Similarly, in the future, we expect, and we've heard often from our residents for the need for interregional transit down to the Valley," Grossi remarks. "We haven't quite figured out a way to make a system like that work or pay for itself. But we see a lot of people park down at [Tom's Sierra Gas, formerly the Whistle Stop, on Highway 108/49 at Rawhide Road] in Jamestown, parking along the highway there and carpooling down to the Valley." Grossi expects when fuel prices go up again, so will demand for parking, a cause-and-effect reflected by higher numbers of people who, during the last up-cycle, made use of shopping center lots to meet up with carpools or access buses.
As for other park-and-ride lots in the works, Grossi shares, "We have a park-and-ride lot being developed in Tuolumne, so that people can access the bus stop that was recently put in…and then ride into Columbia College, or connect up to other regional transportation services." Too, he says, "We have a park-and-ride planned in the Jamestown area…Again, [in] these outlying communities, if we can get people to carpool to other destinations, or for that matter, ride available transit services, that's better for the environment, less wear and tear on everybody's vehicle, and less costly to everybody."
Already funded to the tune of $318,500, the Tuolumne park-and-ride project, scheduled for completion sometime in 2017, will repave the existing gravel parking lot at the town swimming pool/ballpark/library complex to create 70 spaces and incorporate lighting and drainage improvements. There is not yet a specific project plan underway in Jamestown.