Updated: Truck Damages Pole At Sonora Intersection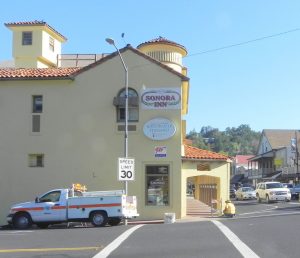 Washington and Stockton Street

View Photos
Updated at 9:30am: Caltrans hopes to complete the needed repairs by late this afternoon or early evening. Due to the extent of the damage, however, it is possible that the work could continue into this weekend or Monday.
Sonora Police Chief Mark Stinson is currently not available for comment in relation to the details surrounding the traffic accident that damaged the pole.
Sonora, CA — Be prepared for flashing lights at a downtown Sonora intersection.
A big rig truck knocked out a pole in front of the Sonora Inn at the intersection of Washington Street and Stockton Road. Caltrans crews are on scene making repairs. No further information is immediately available. Travel with caution in the area.