An Expensive View Of The Drought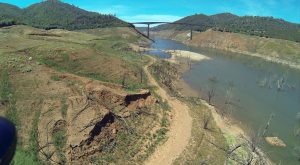 Quadcopter video images provided by Jody Dugan
San Francisco, CA — A new forecast says the economic impact of California's drought will grow, $500 million from previous estimates, to $2.7 billion in 2015. The study, released yesterday by the University of California at Davis, includes a one-third increase in the number of acres that farmers are fallowing for lack of water.
For a local view of the situation, see the video (click Video link in upper left image box) taken with a quadcopter by Jody Dugan. It shows the water level of New Melones by Parrotts Ferry Bridge first; then, Donnell Vista, where you can see the Lake Donnell, which drains into Beardsley; lastly what snow that remains at the top of the Sonora Pass. The video was taken May 31.
California leads the country in agricultural production, but its fallowed land will soon total 564,000 acres. The study says that this year, the drought, now in its fourth year, is worse for state farmers. Researchers say that, even with increased groundwater pumping, state farmers will run 2.5 million acre-feet short of the water they would normally use in 2015. An acre-foot is enough water to supply one to two households for a year. The study says despite all that, crop prices overall are expected to increase only modestly in 2015, by an estimated two percent.
Federal lawmakers are expected to address not only California's water shortage, but also help to the other Western states with water shortages. Alaska Senator Lisa Murkowski, the Republican chairman of the Senate Energy and Natural Resources Committee, wrapped up a Tuesday hearing about the drought by saying it highlighted the need to take up a broader bill than Congress has considered in past sessions.
Congress has struggled over the past three sessions to pass a drought relief bill. The House passed legislation that removed environmental protections from water-related projects but the Senate has so far refused to go along.