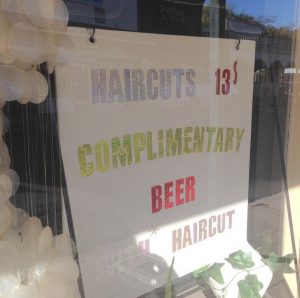 Barbershop sign in Jamestown

View Photos
Sacramento, CA – A trip to the barbershop for a shave and a haircut could soon legally allow serving certain types of alcoholic beverages. AB1322, which calls for making it legal for hair salons and barbershops to offer beer and wine to customers, has passed the California Assembly.
Anaheim Democrat Assemblyman Tom Daly authored the bill. It would allow for the serving of beer and wine, free of charge, something limousine and hot air balloon operators are already allowed to do.  Daly says, technically, right now, it is illegal for these businesses to serve alcoholic drinks, although many salons already offer the beverages while customers are having their hair styled.
On Thursday, the Assembly approved the measure with a 71-0 vote. The bill now heads to the Senate. Critics argue it could put the public in danger, as it may allow for increased drinking and driving.