Tennis Mobile To Be Unveiled Today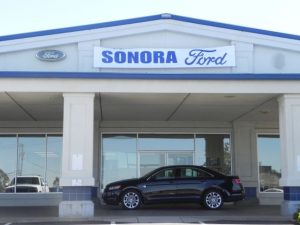 Sonora Ford

View Photos
Imagine a car, wrapped with eye-catching colors and fully loaded with tennis gear. Beginning at 5:30 pm today, this car will be a reality and will soon be driving around Tuolumne County, "serving up" tennis to our local elementary schools.
Ron Jacobs, Founder of 'Just Ace It', was Friday's KVML "Newsmaker of the Day".
According to Jacobs, this car provides for a unique presentation and delivery of tennis fun, and is a collaboration between 'Just Ace It' (www.justaceit.net) and Sonora Ford.
Today (Friday, April 24) beginning at 5:30 PM, young tennis stars, currently in the 'Just Ace It' tennis programs, will unveil the colorful and cool looking Tennis Mobile at Sonora Ford. The public is invited to this free event.
In February this year, Manuel Prieto, owner of Sonora Ford, and Ron Jacobs, founder of 'Just Ace It' began their collaborative efforts to make the Tennis Mobile a dream come true.
The Tennis Mobile is a Ford Transit Connect XLT Wagon donated by Sonora Ford.
The car is fully wrapped by T&C Signs of Sonora who donated their creative efforts and expertise. Canavan Woodworks of Sonora donated a unique custom-designed insert for storing the many rackets, hundreds of balls, lots of portable nets, ball mower and ball machine. A unique shelving system was even incorporated to house a screen for video analysis of tennis skills.
Many of the 'Just Ace It' tennis programs are supported by funding and collaborative efforts with USTA Norcal. Wilson has been a partner in all the activities and has made it possible to equip the car with all the tennis gear tailored to different ages and skill level.
Various local sponsors have also contributed, enabling the tennis programs for kids to be free or at low- cost to the community.
The Tennis Mobile will be serving tennis at various Elementary schools in Tuolumne
County. In addition, the Tennis Mobile will be serving play dates, summer camps,
and soon local league tennis and various other events including parent-kid days.
The "Newsmaker of the Day" is heard every weekday morning on AM 1450 KVML at 6:45, 7:45 and 8:45 AM.