Truck Thief Chased Down And Arrested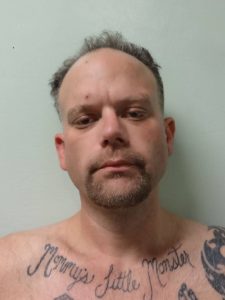 Christopher Warfield

View Photos
Sonora, CA — A man that left Tuolumne County Jail went on a crime spree, was chased down, and arrested.
This past Friday morning, 37-year-old Christopher Warfield of Oakdale was released from Tuolumne County Jail, where he had been booked on a warrant, and for tampering with a vehicle. Just after leaving the jail, he noticed a vehicle driving away from a home on West Jackson Street. Realizing that no one was inside, he broke in the home, and stole undisclosed items. The Sonora Police Department investigated the burglary, and knew it was Warfield because he left his jacket inside the home. The jacket was identified through jail video and staff members.
As officers were searching Sonora for Warfield, the PD reports that he was spotted looking into the windows of parked vehicles at the lower SaveMart.
Warfield then walked over to McCoy Tires, and stole a truck parked in front of an open bay door. The truck belonged to the owner, and the employees gave chase. They followed Warfield to Seco Street in Jamestown, where they were able to box him in. Warfield then attempted to run away on foot, but was tackled by the employees, and held down until officers arrived. Warfield was booked into Tuolumne County Jail.