New Plastic Bag Ban Debate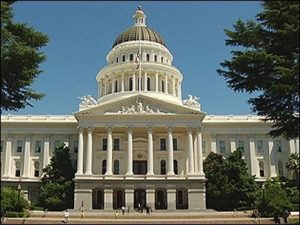 California Statehouse

View Photos
Sacramento, CA — Last year California lawmakers passed the ban on one-time plastic bags given out at grocery and retail stores.
As part of the legislation, stores would collect a 10-cent fee if customers want to buy a paper bag. Now, lawmakers are debating whether to drop the fee.
"People are paying more for food, for eggs, and other goods that they get at the grocery store," says Assembly Republican Matthew Harper. "When you put on a 10-cent per paper bag fee, that's just another thing on top of it."
Harper has introduced Assembly Bill 191, which would eliminate the fee. He has also introduced a separate bill that calls for an elimination of the plastic bag ban entirely. That issue could also be decided at the polls in 2016. A ballot measure has been circulating that calls for a repeal of the bag ban.
Governor Jerry Brown signed the ban into effect last year, and indicated it would help the environment, and reduce litter at state parks and beaches.