Winter Continues In Calaveras Despite Dry Weather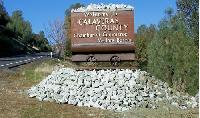 Calaveras County, CA

View Photos
Calaveras County saw strong numbers in tourism in 2014, with perhaps one exception.
Lisa Boulton, Calaveras Visitor Bureau Executive Director, was Friday's KVML "Newsmaker of the Day".
"If there was a weakness last year, it was due to the low amount of snow accumulation in the Winter and Spring of 2014," Boulton said. "However, this year started with lots of snow and the traffic into the Sierra has been terrific."
Boulton attributes the strong numbers throughout 2014 (which are still being tabulated) to a good marketing campaign, as well as Bear Valley's man-made snow making equipment for snow skiing and a diversity of several activites that are offered throughout the county.
Those consistent numbers should continue for 2015, according to Boulton.
A World Movie Premiere at Bret Harte Theater in Angels Camp on February 21st, should also help stir up some interest in portions of Calaveras County.
It's called "88 Days in the Mother Lode; Mark Twain Finds His Voice". It is the locally filmed story about Mark Twain's time in the Mother Lode.
As Calaveras Film Commissioner (her other title), Boulton participated in and observed the filming that took place in and around Calaveras County.
Boulton is also happy to announce that the 2015 Calaveras Visitor's Guide is being published and should be available to the public in just a few weeks.
For more information on Calaveras activities and events, log on to http://www.gocalaveras.com
The "Newsmaker of the Day" is heard every weekday morning on AM 1450 KVML at 6:45, 7:45 and 8:45am.