Breaking Ground On High Speed Rail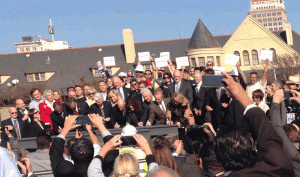 High Speed Rail Groundbreaking

View Photos
Amidst some criticism, California Governor Jerry Brown helped break ground on the $68-billion high speed rail project.
A ceremony was held yesterday in Fresno, where the initial leg will be constructed. There is still some uncertainty about how the entire project will be funded, as many Congressional Republicans have vowed to not provide federal funding. Also, only 100 of the 500 parcels for the project have been purchased at this time. It still faces some legal challenges from agriculture interests in the Central Valley.
This week Governor Brown encouraged the state to get half of its energy from renewable sources by 2030, and the high speed rail project is a piece of that puzzle. At the Fresno ceremony, The Associated Press reports the Governor dismissed criticism that the project is too expensive, saying, "We can afford it. In fact, we cannot, not afford it."
The train is expected to travel at speeds over 200 mph, and trips from Los Angeles to San Francisco will take under three hours. One-way tickets between those two areas are expected to range from $81-$89.