Wall, Blankets, And Hydro Seeding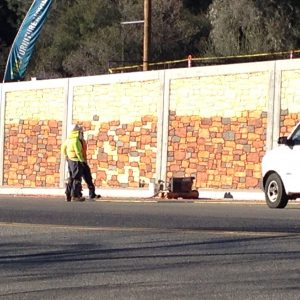 Painting retaining wall along Mono Way

View Photos
Sonora, CA —   Construction crews are getting close to the finish line on the Mono Way Widening Project.
The painting of the rock retaining wall will be completed this weekend according to Sonora City Engineer Jerry Fuccillo.  On Monday, crews will start working on putting up erosion control blankets along the slopes above the wall, do dike work and some hydro grass seed planting.
"The rest of the week is just going to be clean up and there is a lot of fence work to be done," says Fuccillo.  "The final paving, I'm afraid, won't be able to be done until the temperatures reach above 50 degrees overnight in the spring."
As previously reported,  Fuccillo says that should be sometime in March.  No travel restrictions  are scheduled for next week and all businesses will be accessible from Mono Way.