GOP: The Importance Of Families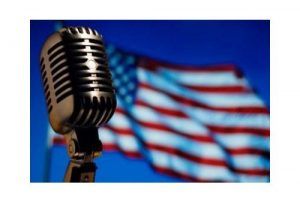 Microphone and US Flag

View Photos
Sen.-Elect James Lankford, R-Okla., gave the Republican weekly address, wishing joy to all Americans, and speaking of his hopes for the future.
Lankford was Tuesday's KVML "Newsmaker of the Day". Here are his words:
"I'm James Lankford, and I have the honor of representing the people of central Oklahoma in the United States House of Representatives. And beginning on January 6th, I'll represent the great people of the State of Oklahoma in the United States Senate.
Across our nation and around the world, families are celebrating Christmas.
To all of our military families scattered across the globe this Christmas, thank you for serving far away so millions of American families can be at home today in freedom and safety. Your sacrifice and commitment allow children in my state and across our nation to wake up with peace. Thank you.
For the millions of Americans, like my family, who believe that there is a creator God who can be known personally, Christmas is a celebration of Jesus' offer of love and forgiveness for all people.
Spanish Explorers celebrated Christmas in 1539 in the area we now know as the State of Florida.
The patriots of our young nation celebrated in borrowed boats on a cold Christmas Eve, as they crossed the Delaware River with General George Washington in 1776.
Dr. Martin Luther King Jr. spoke of true peace during his Christmas sermon in 1967, when he shared his dream that 'brotherhood will be more than a few words at the end of a prayer.'
Today, the joy of Christmas causes hundreds of radio stations around the country to play Christmas music all day, and people will exchange millions of gifts to remember the first gift of Christmas, the infant Jesus.
As we see thousands of public and private Christmas trees and nativity displays around the country, they remind us again of the powerful American value built into our Constitution: our freedom of religion.
Americans honor and respect each other's faith, and we honor those that choose to have no faith. Under our freedom, no one is silenced because of their religious belief.
At Christmas we also celebrate our families. Generations reconnect. Children learn the importance of giving, more than receiving. Families look each other in the eye and forgive old hurts and start anew.
The future of our nation is dependent on the future of our families. Broken families not only affect the people involved, but they have an impact on public policy decisions in Washington, DC and state capitols around the nation. America is strongest when families take care of each other and walk with one another through need and loss. Christmas is a great time to recommit to each other and our communities.
In the next few days, the decorations will come down, schools will restart, a new Congress will be sworn in and another year will begin. But for today, enjoy Christmas. Let's set aside our political and ideological differences and take a moment to love our families, hug our children, parents and grandparents and through love and respect, strengthen the bonds that made us the greatest nation on Earth.
Even after today, as the Christmas songs and scripture remind us, He will still be Immanuel, God with us.
So, from Bethlehem, Pennsylvania to Nazareth, Texas, from Noel, Louisiana to Christmas, Arizona, even from Wiseman, Alaska to Shepherd, Tennessee, I pray our nation may know the peace of Christ and the joy of his birth on this Christmas Day.
From my family to yours, Merry Christmas."
The "Newsmaker of the Day" is heard every weekday morning on AM 1450 KVML at 6:45, 7:45 and 8:45 AM