Witness Accounts Of Sonora Shootout?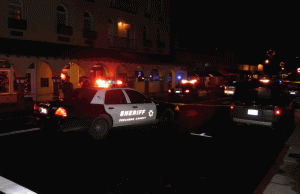 Downtown Sonora - Saturday Night

View Photos
Sonora, CA — The Tuolumne County Sheriff's Office would like to hear from witnesses that saw Saturday night's fatal shootout in downtown Sonora.
The Sheriff's Office is also very interested in seeing any video or audio of the incident. "This information would enable us to do a more thorough and complete investigation," says Sgt. Scott Johnson, Sheriff's Office Spokesperson. "We are asking for the public's help, regarding those items."
Anyone with information should contact the Tuolumne County Sheriff's Office Detectives Division at (209) 694-2900.
Click here to read a recent article detailing the shootout.