Mail-in Ballots Counted in T.C.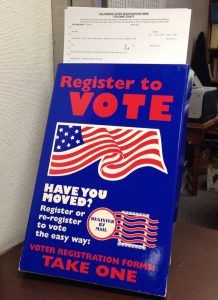 Register To Vote Sign

View Photos
Sonora, CA — Tuolumne County Election officials have finished counting the 2,600 mail-in ballots.  There is one race that got closer.
"The numbers got tighter in the Summerville School District," says Tuolumne County Clerk and Auditor Controller Debi Bautista.  "In the third and fourth place, there are 18 votes between them."
Those candidates are Randy Richter, in third place with 1,529 votes, and John Pool, in fourth with 1,511.  There are still around 450 provisional ballots to count, but is it enough to make a difference?
"I can't tell you that," says Bautista.  "The provisional ballots are countywide and until we process them I can't tell you how many provisional ballots pertain to that race."  She adds what matters is whether the voters cast their ballots in the area where they are registered.  If not, then that race would not have been on the ballot.
In the T.U.D. race for the two four year seats, Ron Ringen is now the top vote getter, followed by Jim Grinell.
Bautista says the provisional ballots should be completed next week.
Click here for all the updated election results.