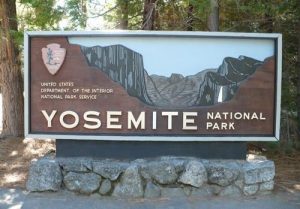 Yosemite Main Entrance - Highway 120

View Photos
For the first time since 1997, Yosemite National Park is proposing to increase its entrance and campground fees.
Beginning today, through Thursday, November 20, Yosemite Spokesman Scott Gediman says that members of the general public will be able to provide feedback regarding the planned fee hike.
Currently, the park proposes to increase the cost for a single vehicle entrance from $20 to $30 and individual or motorcycle entrance from $10 to $15, along with upping the cost of the park's annual pass from $40 to $60.
Gediman says, "It's interesting, with our entrance fee, when you look at inflation numbers, is that $20 in 1997 is a little over $29, in fact, almost $30 today."
He adds, "It certainly is a fee, but as costs go up — and as costs to maintain parks go up — that we feel to have a $30 entrance fee [that covers admission] for up to seven days is still a good value, and people have been accepant of the entrance fee. We are looking at public feedback about it."
Exempted from the proposed fee increase are the federally honored Interagency Passes, which are $80 for the regular pass, $10 for the Senior Pass, and free for the Access and Military passes.
The park plans to use the additional revenue for repair and maintenance of park facilities, restoration and rehabilitation of visitor service buildings, additional park programs, transportation services, and to increase resource protection efforts.
The fee increase is also part of a larger National Park Service initiative to standardize fees in similar national parks across the country. As Gediman explains, "We feel real good about the fact, that with us in line with Sequoia, Kings Canyon, Yellowstone, Grand Canyon, some of the bigger parks, with 80 percent of the entrance fee staying in the park and keeping Yosemite beautiful. We have had real good support for it, so far."
Current campground rates at Yosemite National Park, in place since 2006, range between $5 per night to $20 per night for family sites, and $40 per night for group sites.  The park proposes to slightly raise these fees from $6 per night to $24 per night for family sites, and $48 per night for group sites.
Those interested in providing feedback may do so via email at: yose_planning@nps.gov. Or you can send a letter via the U.S. Mail addressed to: Superintendent Attention Proposed Fee Increase, P.O.  Box 577, Yosemite, CA 95389.
On Wednesday, November 12, from 2 to 4 p.m., public comments will also be welcome at an open house that will take place in the Yosemite Valley Auditorium, located behind the Yosemite Valley Visitor Center.
Depending on feedback, the new fees may be implemented as soon as early 2015.