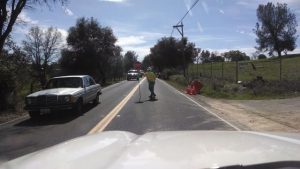 Road work

View Photos
In Tuolumne County, crews will be doing crack seal operations on Highway 108. Flaggers will be conducting one-way traffic control beginning at the 7,000-elevation marker to the 9,000 marker on the highway.
The work will begin Monday, September 8 and run through Friday, September 12 from 7 a.m. until 2:45 p.m. each day. Motorists can expect 5-minute delays.
In Calaveras County, there will be one-way traffic control for paving on Highway 4 from Main Street/Douglas Flat to Meko Drive from 6:00 a.m. until 4:00 p.m. Monday, September 8 through Friday, September 12.
You can expect 20-minute delays. Caltrans asks motorists to take an alternate route whenever possible.