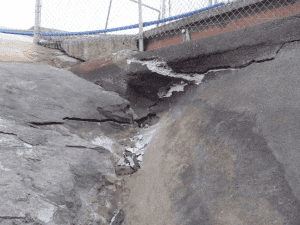 Damage to Twain Harte Dam

View Photos
Twain Harte, CA — Engineers will be installing the monitors tomorrow to chart any movement of the Twain Harte Dam and the rock around it.
"We're going to install 16 to 18 monitors," says Twain Harte Lake Association General Manager Dennis Wyckoff. "The dam does not seem to be moving, but the rock still is moving and popping every once in a while so we need to see how much and then come up with a plan to fix it."
As reported in earlier this month, a rock adjacent to the dam cracked causing damage to the structure forcing Twain Harte Lake to be drained.  Wyckoff says the first crack in the rock caused a 6-inch chip in the concrete that caused a leak on the top left side of the dam. A day later, the rock shifted again causing about a one-foot crack above the chip.  To fix the damage, Wyckoff says they are looking into more flexible materials than concrete.
"Clay is used a lot because it seals it tight, but if something cracks and water gets in it, it re-seals itself," says Wyckoff. He adds the state's number one concern is making sure that the pressure on the dam's concrete is relieved to avoid the sewer line along the dam and rock from breaking.
The state will have the final say on how the dam is fixed, but Wyckoff says that will not happen until the monitoring is completed, which could take several weeks.