Water Draining From Twain Harte Lake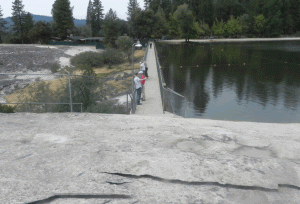 Twain Harte Lake To The Right and Draining Water To The Left
Twain Harte, CA — Officials continue to investigate a leak that was discovered this morning at the dam at Twain Harte lake.
A loud boom was heard at around 10:45am, and water was found leaking from a crack near the top of the dam. There was also a long crack discovered in an adjacent large granite rock, situated at the southern end of the dam. As a precaution, officials are now releasing 2,000 gallons of water per minute from the lake.
"As the water goes down, we'll get to a point where state inspectors will be able to inspect the complete structure of the dam," says Tuolumne County Sheriff Jim Mele. "At this point, we don't see any imminent structure failure, or dam breakage."
The lake will be dropped 10 ft., which will take approximately two days.
The water itself is running where it would during the winter months when the lake is drained. It is traveling to Sullivan Creek and over to Phoenix Lake. Any excess water would then flow towards Don Pedro Reservoir.  The Sheriff's Office reports that no evacuations are called for at this time, but notes that water flow will be high in those areas.
The water is not used for consumption purposes, so it will primarily impact the tourism at the lake. It is owned by the Twain Harte Lake Association
The Sheriff's Office notes that Twain Harte Lake is closed indefinitely.
(You can click on video in the upper left box showing water being released)
General facts provided from Tuolumne County OES:
Twain Harte Lake
20-25 feet deep
Approximate 142 acre feet capacity
Owner: Twain Harte Lake Association
Phoenix Lake Reservoir
Approximate 600 acre feet capacity
Owner: Tuolumne Utilities District
The following emergency agencies are coordinating response:
Tuolumne County OES
Tuolumne County Sheriff's Office
Tuolumne County Environmental Health
Twain Harte Community Services District
Tuolumne Utilities District
Cal Fire
California Division of Dam Safety
PG&E