California Senator Faces Racketeering Charge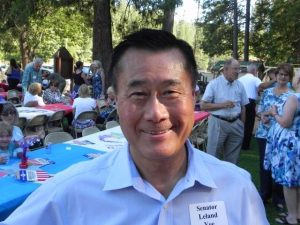 Leeland Yee

View Photos
Sacramento, CA — The legal troubles continue to grow for California State Senator Leland Yee.
The Democratic Senator from San Francisco was arrested in March on allegations that he accepted campaign contributions in return for favors. He was also accused of being involved in the sale of illegal firearms to an undercover FBI agent.
In a new federal indictment released yesterday, an additional charge of racketeering was aimed at Yee. It is for allegedly trying to receive contributions, by influencing a key vote on workers compensation legislation. He has pleaded not guilty to the earlier offenses, and will have to enter a plea for the racketeering charge on Wednesday. Yee remains on paid suspension from the California Senate.