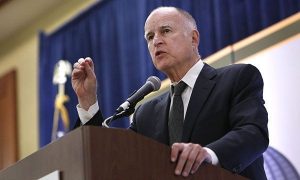 Governor Jerry Brown

View Photos
Sacramento, CA — It is outlined in the state Constitution that if California's Governor leaves the state, the next in command takes over the duties. Next week California will have four different Governors.
Governor Jerry Brown will leave for a trade mission tomorrow in Mexico, and return on Wednesday.
The Associated Press reports that Lt. Governor Gavin Newsom will step into the role initially, but he then leaves for the East Coast on Tuesday to attend some events related to Special Olympics.
Senate President Pro-Tem Darrell Steinberg will then be acting Governor late Tuesday into Wednesday morning, but he has to leave for personal business in Chicago.
Assembly Speaker Toni Atkins will then serve in the role for the remaining hours Wednesday until Brown returns from Mexico.
While it may seem trivial, acting Governor's still have executive powers. Last year, then acting Governor Darrell Steinberg issued an Emergency Declaration for Mariposa County during the Rim Fire. It came after Governor Brown, days earlier, had issued Emergency Declarations for Tuolumne County and San Francisco.
On a lighter note, in early 2013, then acting Governor Gavin Newsom officially declared avocados as the state fruit, almonds as the state nut, artichokes as the state vegetable, and rice as the state grain, for the remainder of the year.