Child Rapist Gets 27 Years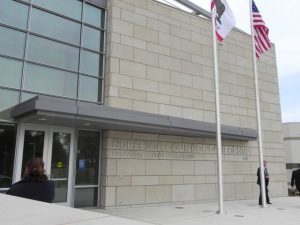 Calaveras County Superior Court

View Photos
San Andreas, CA — A Copperopolis man has been sentenced for the rape of a six-year-old child. On Monday, 32-year-old Robert Walker was handed a sentence of 27 years to life for the 2008 rape. Walker had been found guilty after a five-day trial in June.  The Calaveras County District Attorney's Office reports the mandatory sentence is 25 years to life, but due to Walker's criminal past, his sentence was increased to 27 years to life in prison. Walker will not be eligible for parole until after he serves the entire 27 years.
District Attorney Barbara Yook says, "Every agency involved worked diligently on pursuing justice for the victim in this case. We couldn't be more pleased that we were successful in getting this predator off the streets."
The D.A.'s office believes the outcome of this case should provide hope for others who have been victimized and who may be hesitant to come forward.
Walker was also sentenced to an additional 360 days in jail for disobeying a court order. The D.A.'s office says he repeatedly called and sent letters to the victim's mother while he was in jail.