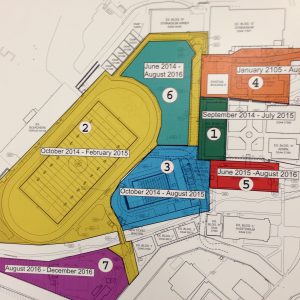 Sonora High School's Measure J construction schedule

View Photos
Sonora, CA — Sonora High School Board of Trustees has unanimously approved a construction schedule that will not affect the football, soccer or graduation schedule. In fact, the construction manager of the project told the board since the state approved the Measure J projects only last Thursday, construction on the stadium cannot feasibly start until October.  Meaning all home football games can be played at Dunlavy Field. That delighted parents attending the meeting who had originally called for the construction to be pushed back so some of the games could be played at home instead of Bret Harte and Calaveras High.
Superintendent Dr. Mike McCoy says, "When we went to the Department of State Architects we were told four to six months to get approval. It took seven months, and agency approvals are necessary for doing these types of projects. Now that we are so delayed because of agency approval, we can now rescue our football season."
Initially, there had been concerns that pushing back the construction schedule would escalate construction cost possibly up to $500,000. McCoy says with this new schedule, "In fact, we're going to be saving money because we're are doing three projects at once instead of just two. We're actually going to have an economy of scale savings." How much of a savings has yet to be determined.
The new construction schedule combines the Humanities building renovations, which have already begun, with construction on the stadium and pool beginning in October.  The original timeline had the pool construction starting June of 2015.  The cafeteria project will begin in January of 2015 with the Centennial Hall renovations slated to start June of 2015. The final project will be the construction of the tennis courts that summer. The entire Measure J project is scheduled to be completed in December of 2016. The Board hopes to put the construction out to bid in September.
In addition, the board voted unanimously to put the CEQA report on the Construction and Modernization project out for public comment for 30 days. The report will be up on the Districts' website in the next couple of days.